Siklu K-Band (17GHz) PTP Link FDD 1Gbps 2ft. EXT antenna
Siklu K-Band (17GHz) PTP Link FDD 1Gbps 2ft. EXT antenna
Siklu's EH1107F is a high-speed, point-to-point microwave link. Thanks to its exceptional resistance to interference, the EH1107F provides the most stable links even on busy sites. This outdoor radio is an ideal solution for where high-performance links with maximum reliability are required. This outdoor radio has a small footprint and is light in weight which makes site acquisition a breeze.
Key Features
68cm antenna. 1Gbps FDD INT antenna. 17GHz. PoE Incl. 1G Copper + SFP Eth.
MiRO is an award-winning distributor of the entire Siklu range throughout South Africa.
What is Siklu?
Siklu provides multi-gigabit fibre-like wireless connectivity in urban, suburban, and rural areas. Operating in the mmWave bands, Siklu's wireless solutions are used by leading service providers and system integrators to provide 5G Gigabit Wireless Access services. 
Siklu's range of solutions is ideal for wireless backbone deployments for wireless internet service providers (WISPs), temporary links where fibre is not available and even backup links for fibre network operator (FNO) networks. Siklu's solutions are frequently deployed for Smart City projects that require extra capacity for video security, Wi-Fi backhauls, or municipal network connectivity all over one network. 
Thousands of Siklu solutions are delivering interference-free performance worldwide. Easily installed on street-fixtures or rooftops, these radios have been proven to be the ideal solution for networks that require the fast and simple deployment of secure, fibre-like wireless.
History of Siklu
When the Israel-based wireless company was founded in 2008, millimetre-wave technology was something very futuristic and extremely expensive. Siklu designed their silicon from the ground up with high performance and cost-effectiveness in mind and disrupted the status cue. As prices and products shrunk, performance rose and the rest is history. The company is driven by its mission of delivering the best mmWave wireless connectivity solutions and bringing high-speed Gigabit connectivity to the world.
MiRO's partnership with Siklu
MiRO introduced Siklu in South Africa in 2016 and has since played an essential role in the expansion of mmWave in Southern Africa and neighbouring African countries. Siklu's mission compliments MiRO's commitment to providing a reliable and steady supply of the latest products. With MiRO being an expert in wireless connectivity technology, they are fully equipped to support the entire Siklu range of products in South Africa and the SADC region. Not only can you purchase your Siklu equipment from MiRO, but MiRO can also assist you with pre-sales support, training, and technical support. 
Benefits of using Siklu in South Africa
Unmatched Capacity
Capacity is superior when compared to other license-exempt and fully licensed millimetre-wave and microwave solution. Depending on the capacity requirements of the Internet Service provider (ISP) or systems integrator (SI), Siklu's solutions start from 1Gbps full-duplex and can scale to 2Gbps up to 10Gbps. Future capacity will move towards 20Gbps and 40Gbps deployments. With E-Band deployments being flexible and easily upgradable through software, an upgrade to a faster model is possible and links can be repurposed. Lead-time for the deployment of a light licensed E-band link is pretty much non-existent as stock is always readily available from MiRO.
Reliability
Siklu solutions have a mean time between failures (MTBF) of more than 70 years, which underlines its reliability. This also makes it a good capital investment, especially when considering that it can be repurposed.
Low latency
Siklu sports an average latency of less than one millisecond (ms) and is ideal for latency-sensitive network applications such as voice and video.
Carrier-grade uptime of up to 99.999% 
Siklu supports a feature called ExtendMM, which allows for a secondary backup link to run in parallel with you Siklu link, allowing you to maximise your uptime, even during heavy rainfall. With Siklu's Link Calculator you can rely on 40 years' worth of rain statistics to give you 99.999% predictability when it comes to performance in extreme weather. 
Security
Siklu structures are practically un-hackable. It is a millimetre-wave radio; thus the beam is about half a degree wide on a two-foot antenna. This means that the beam is laser-thin versus, for example, other radio beams that have a very wide Fresnel zone. Effectively, a hacker would have to be in the direct line of sight with an identical radio, sitting in front of the receiving radio, to even pick up the signal. This would also disrupt the signal and the user would immediately pick up on this, as the link would go down. Theoretically, it is highly unlikely that a signal could be hacked into at all, thus negating the need for expensive built-in encryption hardware.
E-Band offers endless scalability, cost-efficiency and has an extreme level of co-location interference immunity which is important with streaming services moving to 4K UHD video, soon to be 8K. Virtual reality and remote gaming services also require high amounts of bandwidth. This means that soon E-Band will be the only option for ISPs around the globe!
Siklu FAQs
Do I need special routing equipment for Siklu?
No, you can use any IP based network routing solution from MiRO, including MikroTik, Ubiquiti EdgeMax and EdgeCore.
How much does Siklu cost?
Siklu is one of the most cost-effective E-band solutions available. Become a MiRO Business Partner and get access to the latest Siklu price list and buy all your Siklu solutions online.
How do I stay up to date with the latest Siklu specials?
To stay up to date with the latest promotions you can subscribe to the MiRO newsletter or email sales@miro.co.za to find out about MiRO's latest offer.
Why is mmWave called "wireless fibre?"
A huge amount of either lightly-licensed or license-exempt spectrum and plenty of wide non-overlapping channels enable reliable multi-gigabit capacity with mmWave systems. Pencil-beam antennas, together with high free-space-loss ensure extraordinary spatial isolation and guarantee interference-free performance. 
What are the most exciting applications of mmWave solutions?
Millimetre-wave radios can be used in a wide range of applications to provide gigabit connectivity and extend existing fibre in a fast and cost-effective way. Some applications include dedicated Internet or VPN access for business connectivity, connecting municipal anchor institutions to the Internet (schools, libraries, health clinics and campuses), bridging the digital divide with multi-gigabit access to MDUs and Single-family Homes, Wi-Fi backhaul, CCTV camera connectivity, temporary high-capacity connectivity for large scale connected events and more.
What network topologies can be supported?
Siklu offers a point-to-point EtherHaul range that can be deployed in any network topology including: 
Hub and Spoke
Daisy Chain
Ring
Mesh
The embedded network processor and the numerous network interfaces make implementing any topology a very simple task.
What capacity can be provided using mmWave technology?
Siklu's solution provides capacity starting from 1Gbps aggregated (TDD) up to 10Gbps full-duplex. The comprehensive portfolio allows one to save a lot on large-scale deployments, by matching the right radio with the right application. The TDD radios are optimal for asymmetric applications, such as Internet access. The full-duplex radios are best suited for business connectivity or aggregation and backhaul applications.
How do I choose the right technology for my application: E-band or V-band?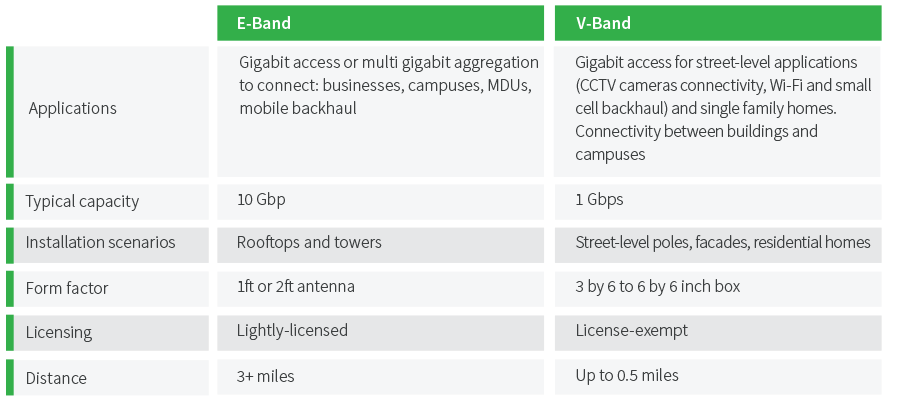 We would love to hear your thoughts on the Siklu range. Leave us a review on the Siklu solutions you have purchased from MiRO.
Product added to wishlist
Product is already added to wishlist
Product added to compare.