ZKTeco - SpeedFace Mini Facial, Palm & RFID Indoor Stand Alone T&A and Access Control Terminal
ZKTeco - SpeedFace Mini Facial, Palm & RFID Indoor Stand Alone T&A and Access Control Terminal
The SpeedFace Mini is a Linux-based Hybrid-Biometric Access Control & Time and Attendance terminal with Visible Light Facial Recognition & palm recognition. 
Visible Light Facial Recognition.
Anti-spoofing algorithm against print attack (laser, color, and B/W photos), videos attack and 3D mask attack.
Multiple verification methods: Face/ Palm/ Card/ Password.
Available card modules: 125kHz ID card (EM)/13.56MHz IC card.
Supplement light with adjustable brightness.
800 Face templates capacity, 800 palm templates capacity.  
---
Retail Price
R5,746.00

(VAT excl)
JHB.
This item is available for shipping or collection from our Centurion branch
Key Features
Face Capacity - 800; Palm -800; RFID - 1,000; 4-inch touch screen, ZKBiosecurity & BioTime 8
MiRO and ZKTeco have partnered together to make biometric access control more accessible throughout South Africa. 
Who is ZKTeco ?
Secure your premises, control who enters through your doors and restrict certain areas of your business with innovative biometric access control and Time and Attendance systems from the global manufacturer, ZKTeco. Their security and time management solutions consist of innovative fingerprint access control terminals and high-performance multi-biometric access control terminals. 
This bio-security company focusses heavily on the latest biometric technologies to improve the safety and security of businesses by providing quality, flexible and affordable security solutions.  ZKTeco's comprehensive solutions address the needs of enterprises, small to medium business (SMB) and individuals. ZKTeco also provides all the necessary software to control your entire security system effectively and obtain useful reports to improve overall business productivity, safety as well as strategies.
History of ZKTeco
ZKTeco was founded in 1998 with a core focus on biometric algorithms. Since then ZKTeco has become a globally acclaimed provider of biometric verification algorithms and software.  ZKTeco solutions are now widely distributed in 180 countries around the world and have branches in more than 20 countries. With a local ZKTeco branch here in South Africa both local support and stock is readily available.  
ZKTeco also has an interactive experience centre where the entire ZKTeco range is displayed to show you how seamlessly their solutions work. In addition to demo units and showrooms, the experience centre also has certified trainings available. Find out more about the experience centre here https://zkteco.co.za/about/experience-centre/
Pros of using ZKTeco in South Africa
• 20 + Years of industry experience
• Supports a unified portfolio ranging from T&A, Access control, entrance control through to security inspection control solutions.
• Local presence to ensure faster turnaround times.
• ZKTeco solutions have up to 2-year warranties.
• Wide variety of high-quality products to address the needs of enterprises, small to medium businesses and individuals. 
• Innovative biometric technology uniquely combined and incorporated with different biometric methods into a single standalone device. 
• Software to help improve business productivity, at the office and remotely. 
MiRO's partnership with ZKTeco in South Africa
MiRO partnered with ZKTeco in 2017 to add to their vision of only supply best-of-breed IP convergence solutions.  Since 2017 the brand has grown tremendously well in the South African market and the ZKTeco portfolio expanded, allowing clients to view MiRO as their one-stop-distributor. MiRO's expert team will assist you with creating the perfect solution for your T&A/ access control needs, starting with choosing the correct hardware through to technical support and training. 
The following ZKTeco range is for sale at all the MiRO branches: 
• Time and Attendance terminals with basic access control functions
• Outdoor and indoor access control standalone terminals, multiple door access control controllers.
• Both access control and T&A solutions support several verification modes such as facial, palm, vein, fingerprint, RFID and code recognition. 
• Touchless Access control terminals that support temperature and mask detection as well as facial and palm recognition.
• T&A and Access control software. 
• Hotel and smart locks.
• Drop arm tripod and full height turnstiles 
• Parking barriers such as boom gates, LPR systems and UHF products to scan cars from several meters as they come in and if they have a UHF sticker the boom gate will automatically open.
ZKTeco FAQs
How much does ZKTeco cost?
Register with MiRO and download their complete ZKTeco price list for pricing. 
How do I stay up to date with the latest ZKTeco specials?
To stay up to date with the latest products and promotions you can subscribe to the MiRO newsletter or email sales@miro.co.za 
What is a standalone solution for access control? 
A ZKTeco standalone terminal is an access control device that can only control one door. You will have to add a slave reader on the inside of the application. Also please note that you can't pair two standalone terminals with each other or a standalone terminal with a controller as they will try to override each other. The standalone terminal is the brain of the operation and doesn't need a controller to work.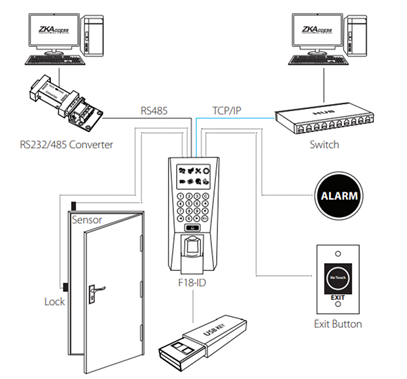 I have two doors do I use a standalone access control solution or a controller solution? 
When there are one or more doors you can use a controller solution like the ZKTeco Inbio controllers that support up to 4 doors. Also please remember that these doors should not be too far from the controller as it might result in a slight delay in the verification period. Another important aspect to remember is that Inbio controllers can only be paired with slave readers, a standalone reader will not work with a controller as both the controller and standalone terminal is smart devices and will try to overwrite each other's instructions.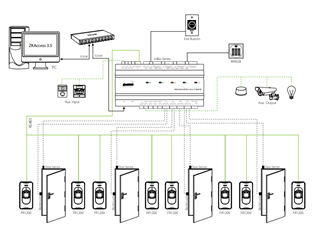 I have a T&A and access control solution application, I need touchless terminals for all four branches.  What terminals do I go for?
ZKTeco has several no-touch terminals that support the top of the range facial and palm recognition technology.  For best practice, pair the touchless terminals with ZKTeco's BioSecurity or BioTime Software. These web-based software solutions will allow you to manage all 4 branches from one central system. 
ZKTeco products used for this solution include: 
• ZK-SPEEDFACE-H5
• ZK-SPEEDFACE-V5
• ZK-SPEEDFACE-V5L-TD
• ZK-SPEEDFACE-MINI
• ZK-PROFACE-X
• ZK-PROFACE-X-TD
What ZKTeco Software is a once-off purchase? 
The ZKTeco BioSecurity and BioTime 8 Web-based software are once-off software with no licensing or monthly fees. The ZKTeco TimeNet 3.0 is a local T&A software that is installed on a server or laptop and should be renewed every 3 years. 
What reports can I pull from the T&A BioTime 8 and TimeNet3 software? 
| | |
| --- | --- |
| Employee information  | Exception |
| Transactions | Hours Summary |
| Daily Total  | Time Card List  |
| Time Cards | Attendance Card  |
| Total Time Cards | Daily Attendance |
| Total Time Cards | Monthly Summary  |
| Late Arrivals   | Flexible Schedule |
| Absence reports  | Employee Shift |
What would I need to complete my ZKTeco Access Control System?
Pair your ZKTeco devices with MiRO'S Acconet CAT cables and powerful switches from BDCOM. To complete your access control security system, pair it with MiRO's range of I[ surveillance cameras from Uniview.
Product added to wishlist
Product is already added to wishlist
Product added to compare.