Powerful network security
Untangle takes the complexity out of network security—saving you time, money and frustration. Untangle is designed to help small-to-medium businesses and distributed enterprises optimise their networks while safeguarding their data and devices. Untangle's Network Security Framework provides cloud-managed security and connectivity options that work together seamlessly to ensure protection, monitoring, and control.

Branch Office Connectivity
The simple and fast VPN tunneling securely connects branch offices to the corporate network.

Cloud-based Centralised Management
The cloud-based Command Center enables you to view appliance network status and location, important events, reporting data, and push global configuration.

Application Based Routing
This advanced technology enables Untangle SD-WAN Router software to form routing decisions on specific applications or categories of network traffic.

Zero-Touch Provisioning
Using Untangle Command Center, network administrators or MSPs can remotely set up and configure single or multiple Untangle SD-WAN Router deployments without having to be on site.
The new Untangle eSeries appliances are lightweight edge devices designed for branch office connectivity, WAN performance optimisation, and business continuity. Each eSeries appliance is shipped with the Untangle SD-WAN Router software pre-installed and is ready for easy remote provisioning via Command Center.
As part of Untangle's Network Security Framework, Untangle SD-WAN Router with advanced routing capabilities and stateful firewall, provides the ability for businesses to build a comprehensive, secure Software-Defined Network at a fraction of the cost.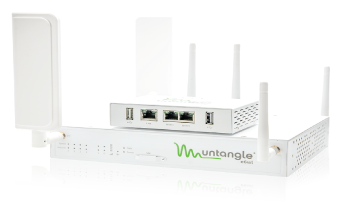 Deploying SD-WAN Routers
Untangle's SD-WAN Router has multiple deployment options to fit into your existing IT environment. Choose one of our eSeries performance-optimised appliances, or use your existing infrastructure with a virtual appliance running on a hypervisor.

Managing your network and ensuring every device is adequately protected can be a complex and costly task. Untangle NG Firewall simplifies network security with a single, modular, hardware or software platform designed to fit the evolving needs of your organisation. NG Firewall provides a browser-based, responsive and intuitive interface enabling you to quickly gain visibility into the traffic on the network. From content filtering to advanced threat protection, VPN connectivity to application-based shaping for bandwidth optimisation, NG Firewall delivers a comprehensive, enterprise-grade network security platform for organizations in any industry.
Sign up to become a MiRO customer and shop our range of Untangle options.